In celebration of my newest release, Bees In The Butterfly Garden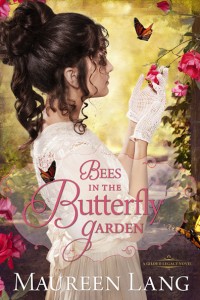 , I'll be visiting a number of other blogs and answering various interview questions about the book and about my writing life in general. I always have fun doing this, mainly because each blog is so unique to the host! Several sites will offer contests to win a free book, too, so you'll have these opportunities plus my own contest which starts on July 9th.
Have fun!
Here are a few if you'd like to stop by different blogs on the dates listed to visit:
Margaret Daley's Blog
Margaret's Blog
Week of: June 25, 2012
Link: http://www.margaretdaley.com/margarets-blog/
My Interview posts Thursday, June 28th but various interviews are going on all week.
Tiff Stockton
A Fictional Life
http://amberstockton.blogspot.com/
June 27, 2012
Debbie Lynne Costello's Blog
The Sword and Spirit
http://www.theswordandspirit.blogspot.com/
June 28, 2012
Salena Stormo
Through His Eyes Blog
http://throughhiseyestoo.blogspot.com/
June 30, 2012
Cheryl St. John's Blog
From The Heart
http://cherylstjohn.blogspot.com/
July 9, 2012
Rhonda Gibson's Blog
Recipes From Rhonda's Collection
http://recipesfromrhondascollection.blogspot.com/
July 9, 2012
Lena Nelson Dooley's Blog
A Christian Writer's World
http://lenanelsondooley.blogspot.com/
July 15 2012
Casey Herringshaw
Writing For Christ
http://enjoyingthewritingcraft.blogspot.com/
July 16 2012
Have fun blog-sailing!