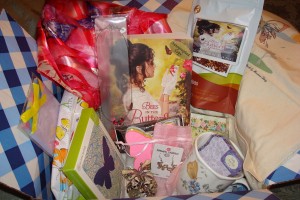 Elizabeth A!
PunchTab, the wonderful service I used to help me with this contest (recommended by Tyndale House) has randomly chosen Elizabeth's name as the winner of the Bees In The Butterfly Garden goodie box. I can't wait to send Elizabeth the prize!
I just wanted to add a quick note to anyone out there wanting to do a giveaway. Punchtab didn't ask me to do this, but my goodness I can't let this opportunity go by without raving about how user-friendly and easy this contest was to set up. I did have a little surprise in the time zone for the contest ending (two hours later than I expected) but I must admit that was user-error. So check out PunchTab if you ever have the opportunity to put together a contest or promotional program of your own. They're great!
So, without further ado, I'm off to check my email. Punchtab has already sent Elizabeth an email with the good news, so I'm hoping to work out the details as soon as possible.
Thanks again to all who entered! This was so much fun, I'm sure to do it again. 🙂