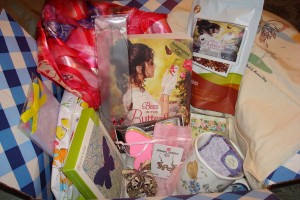 Happy Monday! This week, I'll be having fun with a special new contest. I'm not only giving away a signed copy of Bees In The Butterfly Garden, this particular contest includes so much more.
If you like butterflies, this is the contest for you!
As you can see from the picture, I've collected a variety of items, which I'll list below individually. I've had so much fun choosing what to include that my simple little giveaway has added up to a retail value of around $100. I never realized how easy it would be to start a collection of butterfly items until I actually started looking.
Here's what you'll win if your name is drawn in my Punchtab contest:
Butterfly Basket Goodies:
Signed copy of Bees In The Butterfly Garden
Butterfly necklace
Butterfly earrings
Butterfly tea mug from Lenox
My signature blend of tea from Adiago Tea Company
Honey, straight from some Illinois bees
Tea Filter
Butterfly scarf
Butterfly makeup bag from Clinque
Assorted stationery/notepads/sticky notes featuring butterflies
Springtime playing cards
Butterfly tote bag
Butterfly tear bottle*
*The tear bottle is perhaps my favorite item in the collection, and something I've been known to give others for a few years now. Technically each gorgeous little bottle, this time with a butterfly on top, is a perfume bottle. Throughout history little bottles have held precious items like expensive perfumes or exotic spices, but the Bible tells us God collects our tears as if they're every bit as precious, and puts them in a bottle. Because of that, I'm reminded tears aren't just tears—they're precious to the God who created me. Is it because He know those moments can bring us to those places where His presence is most keenly felt? Perhaps. Somehow that makes my tears a little easier to bear, and I hope by giving a tear bottle as such a reminder will do the same for others. It's small enough to sit nearly anywhere, and I keep mine on my desk next to my computer, where I can see it every day.
One last thing as I launch this contest, a few technicalities. As many of you know, I readily admit to being technologically challenged. This is the first time I'm taking advantage of the Punchtab contest help, so please bear with me if we run across a glitch or two, especially on this opening day. Thankfully this contest will run two full weeks, not only to allow maximum participation, but for me to be sure everything is in perfect working order. So I hope you'll participate!
As with any contest, the odds are directly related to how many people enter, and there is no purchase necessary to participate.
So, let's get started!
Start here: