Follow the clues for a Chance to Win a Kindle Fire HDX or 30+ novels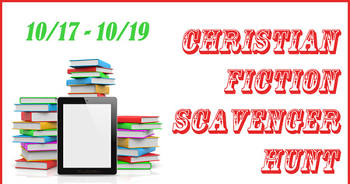 Welcome to the Autumn 2014 Scavenger Hunt. You have arrived at Stop #32. The hunt begins at noon (Mountain Time Zone) on October 17, 2014. You may have arrived here before the start which could mean all of the sites aren't ready quite yet. Once the official start has begun, you should go to Stop #1 and then work your way through the sites, gathering clues and entering bonus giveaways, until you reach the final stop which will also be on the site of Robin Lee Hatcher.
The hunt ends on Sunday, October 19, 2014 at one minute before midnight (Mountain). That means you have all of the weekend to finish it, so take your time. Enjoy reading the exclusive content the authors have prepared for you. You will collect a CLUE IN RED at each stop. Write them down as you go. At the end of the hunt, you will enter the clues into a Rafflecopter form. (The answer will make sense, even if you aren't familiar with the quote.)
The hunt is open to international entries. The grand prize is a Kindle Fire HDX. Two runners-up will receive a new release from each of the participating authors.
IN CASE YOU FIND A BROKEN LINK…
Robin Lee Hatcher has prepared a "cheat sheet" with direct links to each author's post in case a site goes down or a link gets broken. We hope there will be no such issues, but just in case, please make note of the URL for the Participating Authors & Stops page so you can check back and be able to complete the hunt.
And now for the Hunt!
For my turn during this Scavenger Hunt, I'm happy to present best-selling author Susan Sleeman, her favorite Christmas memory, and an introduction of her newest book, Silent Night Standoff.
MY FAVORITE CHRISTMAS MEMORY
I have two Christmas books releasing this year so my mind is already on Christmas and the many wonderful memories of Christmas's past. Our family, like many of you, have traditions we keep each Christmas and we don't often stray from them.
However, when we were planning a move from Orlando back to Oregon, our oldest daughter thought it a perfect time for a visit so we could all go to Disney World. What could be more fun that taking your four year old grandson to Disney so we gladly agreed.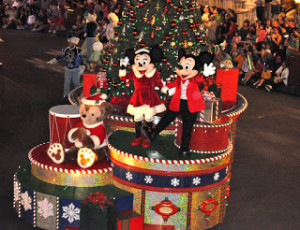 We were able to get tickets for the much sought after Mickey's Very Merry Christmas Party. The event starts after the park closes for the day and tickets are limited so there is never a line for the rides. Bonus!
The entire park is lit up with amazing colors, there's a special parade, incredible fireworks, and it even snows on Main Street. Oddly enough, the usual balmy Florida weather took a dive and we were bundled up to keep warm. It felt like snow was really falling from the sky.
Watching our grandson's face light up at the fireworks, marvel at the parade was a priceless experience. I'll especially remember the look of awe when we walked under Cinderella's castle as it changed colors. Such an amazingly beautiful sight. Don't you agree?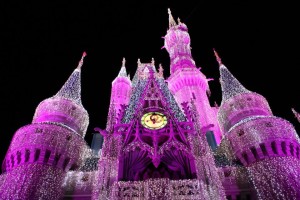 So what about you? What is your favorite Christmas memory?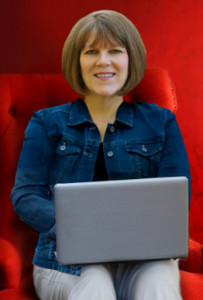 SUSAN SLEEMAN is a best-selling author of inspirational and clean read romantic suspense books. Awards include Thread of Suspicion-2013 Romantic Times Reviewers Choice Best Book Award, No Way Out-2014 Daphne du Maurier Award for Excellence finalist, and The Christmas Witness-2012 Daphne du Maurier Award for Excellence finalist. In addition to writing, Susan also hosts the popular website TheSuspenseZone.com.
Silent Night Standoff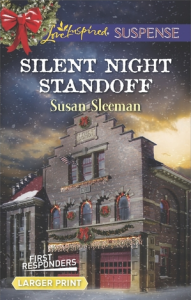 HOSTAGE SITUATION-When armed robbers strike her bank, hostage negotiator Skyler Brennan's life is on the line. Rescue comes from the last person she thought she could count on the ex-boyfriend who chose his job over their relationship. FBI agent Logan Hunter knows how much is resting on this case. The promotion of his dreams and the safety of the woman he's never been able to forget. But when an unexpected twist in the case pulls Logan in two separate directions, he'll have to make an impossible choice. Will he manage to have it all by Christmas a career and love or will he lose them both? First Responders: Brave men and women alert and ready for danger and love.
Silent Night Standoff is available everywhere, including these fine online retailers:
"Terms and conditions: ONE entry per person. If we find you've registered under separate IDs, you'll be disqualified. Please, be HONEST. Because, you know, Jesus would WANT you to be. If you're an international winner, your prize will be the equivalent of what we're offering in the USA in terms of USD$$, based on that day's exchange rate, and what we can figure out in terms of online options (ex. Apple in Australia, etc.). If the Kindle Fire HDX is more expensive in your country than it is in the USA ($269 USD), we shall give you an Amazon gift card for the equivalent of the USD value. International runners-up winners will receive most of their books via Book Depository, and therefore, they cannot be autographed—sorry. The giveaway is open to those who are ages 15-17 with a parent or guardian's permission and to those who are 18 and above."
The Scavenger Hunt Skinny
Thanks so much for stopping by my site and participating in the new Christian Fiction Scavenger Hunt. Before you move on to Stop #33, which is Susan Sleeman's site, to pick up your next clue, be sure to write down this Stop #32 clue: SOME TO BE CHEWED
Also, please note: Many of the authors use Rafflecopter for their giveaways. Rafflecopter requires JavaScript to work. If you can't see the form, please turn JavaScript on in your browser in order to enter. Rafflecopter sometimes doesn't work on mobile devices. If you are on a mobile device and can't see the entry form, then you'll need to find a computer.
************************
But Before You Go
And now some info for my own little giveaway! First, let me thank you for participating in this Scavenger Hunt. I know they're lots of fun, especially with added bonus chances along the way.
For my Giveaway, available only here on my blog, I'll be awarding one winner my favorite gift, a tear bottle.
What's a tear bottle? You might think this looks a bit like a fancy perfume bottle, and of course technically you'd be right. But for a long time, I've loved the verse in Psalms that reminds us we're so precious to God that He keeps track of our tears. (Psalm 56:8) And so, since the Psalmist drew such a lovely image of God putting our tears in a bottle, I want to remind everyone that though we won't escape tears in this life, we can rest in the knowledge of God's love for us.
Please enter my contest below. This is in addition to the Scavenger Hunt entries that are collected on Robin's site!
a Rafflecopter giveaway