I'm so excited to share news about my latest book —
Introducing The Matchmaker's Match!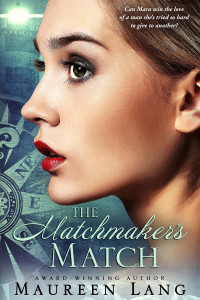 This story was particularly fun, mainly because as I was writing this story, the heroine kept doing things that surprised me. I love it when the characters take over like that! It's why I love writing, because I'm just the story's first reader, discovering something that was there all along just waiting to be recorded.
Here's what it's all about:
Can Mara win the love of a man she's tried so hard to give to another?
Chicago, 1895
Mara Madison arrives at her sister's doorstep after a decade of independent world travel. Having at last discovered the faith her family always modeled, she's determined to make up for the years she's spent indulging her own whims.
Her sister Christa instantly recognizes Mara as a potential bride for her husband's business partner, Benjamin Esherwood. But Mara has pledged herself to perpetual spinsterhood and charity work since no proper mother-in-law would accept her adventurous past. She also suspects her sister's family governess is already in love with the handsome businessman, and sets out to use her own matchmaking skills to bring the two together.
So begins the matchmaker's match, a contest between the two sisters to see Benjamin happily married.
When her mother joins the matchmaking endeavor by arriving with Mara's first love, Joshua, in tow, Mara's resolve to remain a spinster is further challenged. Could the love that broke her heart and caused her to abandon society be reignited? Or should she surrender to her feelings for the man she's been trying so hard to match to another?
Which sister will win the matchmaker's match?
The Matchmaker's Match is now available for pre-order on Amazon and will be released on October 16th. Happy reading!