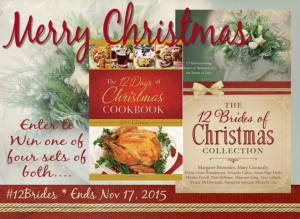 Ready or not, the holidays will be here before we know it! Can you believe it?
I'm excited to share that the twelve Christmas novellas originally released individually as ebooks last year and in limited sets of 4 in paperback have been collected for this year's holiday season into one big book! Now you can get all twelve Yuletide romances under one cover, from a variety of favorite Christian authors.
So we're celebrating with a contest!
Starting today, my fellow 12 Brides authors and I are getting together to give away copies of The 12 Brides of Christmas Collection. If you've already read some of the novellas we released last year, you know what fun they are. Along with over 500 pages of romance, we're including another book as well—a new release from our publisher called The 12 Days of Christmas Cookbook.
Either book would make a great Christmas present! So start your "shopping" early and take a chance to win the complete collection, as well as a selection of recipes from the new 12 Days of Christmas Cookbook! No purchase is necessary, and the chances of winning depend on the number of entrants. Four sets of both books will be given to four different winners.