I'm happy to announce that things are moving forward to purchase my newest novella, The Message in a Bottle Romance Collection, which will release on March 1st, 2017. Here's our cover: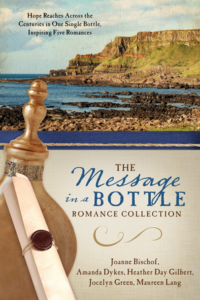 Each story is linked together by a bottle that survives the ages and, because of a single word etched into it, offers hope to various people when they need it most.
My story is set in New York City, 1798. Even then, New York was among the most exciting cities in the country to call home—although at this particular time, it was a risky place to be with a yellow fever epidemic breaking out. Let that be a clue as to why my characters are in need of divine hope!
I've so enjoyed working with the other lovely ladies involved in this very fun project! We have lots of excitement ahead as the release date draws nearer, but seeing the book available for pre-order is one of those first fun steps.
To pre-order, here are some helpful links:
As always,
Happy Reading!