Flames lapped at the monk's robes. He raced down the corridors that crackled with the collision of dampness and heat, dodging fire-lit debris. So this was to be the end, then. The night the stones of Ballyfir Monastery would tell their last tale…
So begins the tale of a humble monk, his unwavering courage, and the bronze bottle he sends into the night with a prayer that its contents might bring hope—the very word etched into the bottle—to someone, somewhere.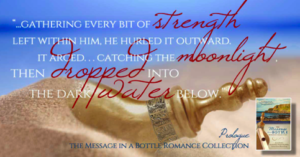 The Message in a Bottle Romance Collection follows the journey of that same bottle throughout the centuries in five novellas. It travels the world and touches hearts… and today, we'd like to invite you along for that journey.
Would you care to come along with us for a look behind the scenes in this short five-stop blog tour?
At each stop, one of the five co-authors will interview another, to take you chronologically through the novella collection and unwrap some fun bonus material.
Oh! And don't miss the chance to enter the giveaway (more information at the bottom of this post). Thank you for joining us, friends!
Go Behind the Scenes with Jocelyn Green:
I'm so happy to be hosting Jocelyn here on my blog! If you don't already know Jocelyn, I'm thrilled to have the opportunity to introduce you. It's been such a pleasure getting to know her while working together on this collection, and I'm sure you'll be blessed by her and her story.
Who is Jocelyn Green?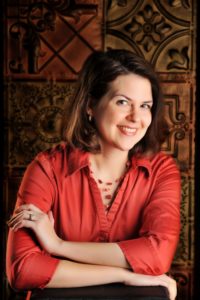 Jocelyn Green inspires faith and courage as the award-winning and bestselling author of numerous fiction and nonfiction books, including The Mark of the King, Wedded to War, a Christy Award finalist in 2013, and The 5 Love Languages Military Edition, which she coauthored with bestselling author Dr. Gary Chapman. She graduated from Taylor University in Upland, Indiana, with a B.A. in English, concentration in writing. She loves Mexican food, Broadway musicals, Toblerone chocolate bars, the color red, and reading on her patio. Jocelyn lives with her husband Rob and two small children in Cedar Falls, Iowa. Visit her at www.jocelyngreen.com.
And now for a few questions about Jocelyn and her story: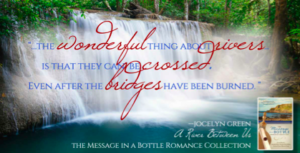 Where did you get your inspiration for this story?
In 2014, I visited the Marietta Museum of History, in Marietta, Georgia, to do a speaking and book signing event for what was then my latest release: Yankee in Atlanta (Book 3 of 4 in the Heroines Behind the Lines Civil War series). Before the event, the curator gave me a personal tour of the museum. Because of the research I did on Civil War Georgia, I was aware that Union General Sherman had hundreds of women and children millworkers from Roswell and Sweetwater Creek arrested and sent north from Marietta, Georgia. But the curator told me something I didn't know: her colleague found a letter which told of a Union soldier proposing to a Southern millhand right there at the train station. That was the seed that blossomed into my novella, A River Between Us.
That museum also appears in my story—it was originally the Kennesaw House Hotel, Sherman's headquarters while his army was encamped in Marietta.
What river does your title, A River Between Us, refer to?
When the millhands were sent north from Georgia, they were dumped on the north side of the Ohio River, while Sherman's army fought the Battle of Atlanta and went on the March to the Sea. So the river came between my Southern heroine, Cora Mae, and the Union hero, Ethan Howard.
But the river also is metaphorical, representing a daunting challenge, a divide that isn't easily crossed. The hope, however, is that even rivers like this can be bridged.
This is your first novella. How was this writing experience for you?
I really enjoyed working with co-authors on this collection! Writing can be such an isolating venture, it was a real treat to be able to work on a project together. I did find it challenging to tell a story in a third the length of a normal novel, but I'm happy with the finished product!
Where did your research take you this time?
As I mentioned earlier, I had already visited Marietta, Georgia, before I started writing this novella, so that was a help. My research also took me to books and the Internet, as usual. My go-to research assistant was the man who'd found the letter about the trainside proposal: Civil War historian and tour guide Brad Quinlin, an expert on Marietta history in particular. (In an episode of the NBC series, Who Do You Think You Are?, Quinlin researched the Civil War roots of Matthew Broderick.) He answered all my nitpicky questions!
My husband and I were also able to visit Ireland while all of us authors were waiting to hear whether we had a book contract for this collection. Amanda Dykes did an amazing job drafting the prologue, which takes place at a monastery in Ireland, and we all had a hand in the edits. While in Ireland, I fact checked a few things, and picked up a couple of items to add to our grand prize give-away: the earrings and the blank journal from the Book of Kells exhibit at Trinity College in Dublin.
What are you currently reading?
Right now, I'm enjoying The Messenger by Siri Mitchell, The Novelist by Angela Hunt, and an advanced copy of The Return by J.M. Hochstetler (Book 2 in her amazing Northkill Amish series co-authored with Bob Hochstetler).
Thank you, Jocelyn, for a lovely chat!  I always enjoy peeking into other author's lives. If it's any comfort, I've written five novellas and I'm still challenged by the shorter length—but they're so fun, as you found out. I love your pictures, too—imagining the Georgian mill running on the waterpower of Vickery Creek (pictured above) and the dramatic Cliffs of Moher in Ireland—so like the spot where our bottle began its journey.  And I'm thrilled you're reading Siri's book. For those who follow my blog, they know Siri is my critique partner and The Messenger is one I especially loved!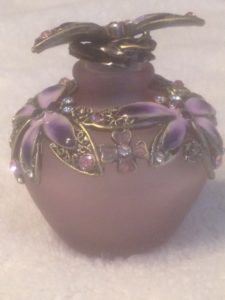 As you'll see from the details of our giveaway, we're offering a unique combination of special gifts. One I'm connected to is called a "tear bottle" — something I've been known to give away whenever an occasion like this comes along. Do you recall from the book of Psalms that God collects our tears in a bottle? (Psalm 56:8) It's a poignant reminder of God's love and that He counts our tears as precious.
And now the scoop for the Giveaway!
First, if you haven't had a chance  to enter yet, do hop over on the link below and enter this hope-themed giveaway, which we pray will be a blessing to our readers. Just click on the link below to access the entry:
Top 3 Reasons to enter:
We want to celebrate you! We're so thankful for our readers, and this giveaway is one way we'd like to thank you.
Super quick and easy giveaway form—as simple as entering your name and e-mail, then clicking through to submit! As you'll see, there is a chance for additional entries, but it's entirely optional.
…you could win a wee plot o' land in Ireland!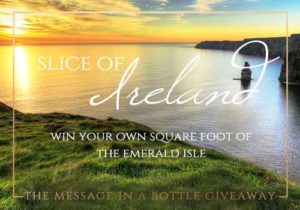 Not to mention this…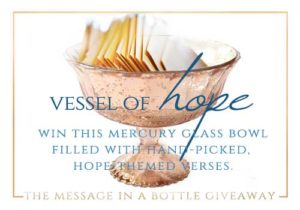 And the…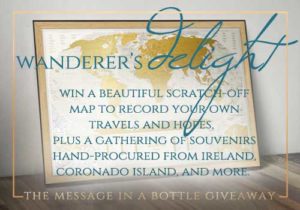 Next up on the blog hop… come say hello to Jocelyn and Joanne over on Jocelyn's blog. They're waiting with a freshly-brewed pot of virtual tea to welcome you! Click here for Blog Hop #5 at Jocelyn's!
If you're joining us midway through this short blog hop, click here to be directed to Joanne's Blog that kicks off our interviews. Or if you missed my interview on Amanda's blog, click here. We're so excited to share some behind-the-scenes fun from each story with you, and basically you can start anywhere you'd like. Just don't miss any of it. 🙂
Thank you for joining us!