I nearly feel like re-introducing myself because it's been so long since I've blogged here! My name is Maureen and I'm a blogging laggard . . .
Not that I haven't been busy behind the scenes, and occasionally blogging with my Christians Read buddies. I did take a little time off to concentrate on my growing family, seeing those precious years of childhood coming to an end with my youngest son. But I couldn't stay away from writing altogether, and I have been doing just that!
First, I want to share how I've been inspired by my friend and colleague Jane Steen who helped me take my first dive into independent publishing. Initially the prospect of tackling what seemed like more business than art seemed a little intimidating. I've loved working as part of a publishing team, trusting others in the traditional world of books to make all the important decisions. Just thinking about finding an editor, a cover artist, someone to format various versions for e-book and print was nearly overwhelming. But guess what? That old adage about taking one step at a time has been true since the first time those words were uttered. Once I made the decision to test the waters of independent publishing, breaking down the steps and following one at a time has been easier than I expected.
It started, of course, with writing a book I'm excited about. That's always the easy part for me, and so I wrote The Cranbury Papermaker. But after that I needed to find the other team members I mentioned above—an editor, a cover artist, and someone to format the novel to be read in different ways (e-book readers as well as print). That's where friends who have already plowed through this forest-of-the-unknown really proved vital! Between Jane's example and the advice of several other authors I know, I was able to contact people in the right place to get the process started.
So I'm hoping to be ready to release this first independently published book by the end of March — just a few weeks away! Here's the cover, which I'm really pleased with: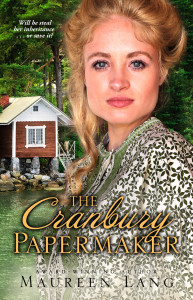 Isn't it pretty?
And here's a little blurb about the story:
Will he steal her inheritance . . . or save it?
Arianne Casterton is devastated when her father and his new wife are killed in a train accident. Despite her faith in God, her grief soon turns to despair when she discovers one-third of everything her father owned has been transferred automatically to his wife's son and heir, Jonas Prestwich—someone Arianne never knew existed.
Jonas's mother married a backwoods papermaker much too soon after becoming a widow, embarrassing Jonas who lives among Philadelphia's elite. Though he's distressed by his mother's death within a year after losing his father, receiving a portion of the papermaker's inheritance feels like justice. The man obviously seduced his mother before the flowers had wilted on his father's grave—and perhaps even earlier than that.
Though God has blessed Arianne with the passion and talent to be the next gifted papermaker in her family's tradition, she finds the demands of keeping the business going to be nearly overwhelming. When Jonas offers to expand the business to something more modern and profitable, Arianne is suspicious, reluctant to give up the art of handmade papermaking. But she realizes without his unwanted help she might lose everything anyway.
Can two people with such impossibly different views of art and business ever merge . . . even when love tries binding them together?
♥
I'll be sure to let you know the exact day in late March when the book will be available – actually getting the book to market is one of the steps I haven't taken yet, so until I get there I'm not sure how it'll go. It's true that I'm taking this a bit on faith, but so far the steps have worked out and I hope that will continue to be the case!
I'm also continuing with the traditional market, where the publisher handles all of the details I'm only just beginning to learn about. I'll have two novellas coming out later this year, short romantic stories that will release in July. The first, Bonnets and Bees, is a fun story in the upcoming Brides of Convenience series. I've always loved that particular romantic twist, putting two people together with seemingly no way out . . . until, of course, they discover they don't want a way out at all.
My second novella is a re-gathering of the popular 12 Brides author group which got together to produce the 12 Brides of Christmas this past holiday season. Like that collection, our work will appear in print first and available exclusively at Walmart, or as an e-book online everywhere, starting in July. This time our collection is called The 12 Brides of Summer, and each of us are taking a minor character from our Christmas story and highlighting them with their own new romantic tale that will be set in the summertime.
I'll introduce covers on those novellas as soon as I have them to share!
So there you have it. I've been in my chair writing after all, which is exactly where I sense God designed me to be.