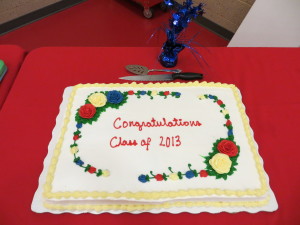 Yesterday my family attended a graduation ceremony for our oldest son. There were just five in the senior graduating class, all boys with one form of disability or another. As you know if you've read this blog before, our son has Fragile X Syndrome, a genetic form of cognitive impairment. So although he's nearly eighteen, he functions more like a very tall two-year-old.
As always, the school did a wonderful job of making the event festive. They decorated the gym, posted pictures of the graduates, welcomed the families with smiles and congratulations. When the time came, the kids marched in their robes to the traditional serenade of Pomp and Circumstance, each one guided by their teacher. Two of the five wore their gowns without the caps, because sensory issues made anything on their head an impossibility (my son was one of the two). They were prompted to step up to the stage one by one to receive their certificates of attendance. Soon afterward, they were given a gift by the parent's association—sensory gifts like squishy balls and light sticks.
Further personalizing the ceremony was a video depicting each of the graduates, many of whom have been in this same school system since they were three. It was that video that reminded each of us of how much our kids have grown, picturing some precious moment and many smiles along the way.
But it was, like all of the adjusted milestones in families like ours, bittersweet. I tried not to imagine what a graduation would have been like had Fragile X not been part of our lives.
Suffering is one of the biggest stumbling blocks toward faith. People wonder how a loving God could allow widespread, unfair suffering in the world. There is likely no answer that will satisfy everyone, but I do know that free will came at a price. If God prevented suffering from those who accepted the truths of the Bible, everyone would accept the truths of the Bible just because it would be practical to do so. Believe in God = no suffering. Obviously that wouldn't require any faith, and so none of us can be spared.
Yet all I have to do is look out my window to see evidence of a loving God. Spring colors and fragrances abound; flowers and birds and even squirrels are cute (which are, let's face it, rodents). This and so much more suggests that God wants us to enjoy so much about life. I see God's love in my son's smile, too, in the way he laughs when I make a funny face or when I see something beautiful catching his eye, too. He may have the functionality of a two-year-old, but he appreciates creation in fresh air, a warm breeze, even a pretty girl. (He's all boy!)
I read the many touching comments right here on my blog when people came through on the recent Scavenger Hunt, references to why a Tear Bottle is a good idea. None of us are spared forever from grief, but knowing God counts our tears as precious is an important reminder—something I was comforted by just after this graduation. I wonder if God keeps track of how many times we've smiled through our tears?
Next week I'll be returning to my regular schedule, with blog posts on Monday mornings. Thanks again to all who entered the Scavenger Hunt, and my bonus contest as well. A big welcome to all of the new followers! And if you missed the announcement on Lisa Bergren's page, Gena was the winner of my Gilded Age series and tear bottle. The package is on its way.
Stay tuned for more contests in the future!