This past weekend I was blessed to be able to hang out with many of my favorite Christian authors. We had time to worship together, pray and share, talk about the industry and of course spend many meals together. It didn't hurt that we met at the Opryland Hotel in Nashville, and with the unexpectedly cold weather came their holiday displays. My phone takes terrible pictures so most of those I took came out blurry (okay, perhaps it's operator error . . .) but it was an already lovely hotel dressed up with thousands of twinkling lights.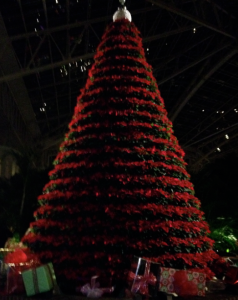 The tree of poinsettias is probably too dark to really enjoy the effect, but it was too gorgeous not to want to share!
It was great to share some time with others who have the same passion, not just for writing but writing for the Lord. Some people I knew only online, so putting faces to names was fun. Kathleen Fuller and I have known each other for well over ten years but only just met face-to-face for the first time. I told her she's not nearly so tall in her emails! But she's every bit as sweet in person, so we fell into the comfortable friendship we've enjoyed for years. The picture above is the first online critique group I was part of, begun before any of us had published in Christian fiction.
Have you ever gone to a conference and felt that way? Knowing everyone there shared the same passion? Whether it's a writing conference, a woman of faith conference, a craft group, whatever it is—stepping into a room of like-minded people always brings a sort of "belongingness", doesn't it? If you haven't already experienced such a thing, I hope you'll take the opportunity in the future to enjoy something like this!
I also hope you're enjoying the weekly releases of the 12 Brides of Christmas! This week is Miralee Ferrel's Christmas novella, The Nativity Bride. Enjoy a little romance this season!