My husband teases me about the "rules" I have for holiday decorating – everything from when to hang the Easter blessings signs to flags in the windows for Fourth of July. On the first of October Halloween decorations go up, until some of the pumpkins get blended in with Thanksgiving pilgrims and turkeys. That leads right into the Christmas season with the most extensive displays, at least in our own modest way. Of course the actual date to bring out holiday decorations are different for each family, but around here I call it a routine rather than a rule. I like putting up my tree the day after Thanksgiving so we can enjoy it all the way through New Year's Day when I take it down.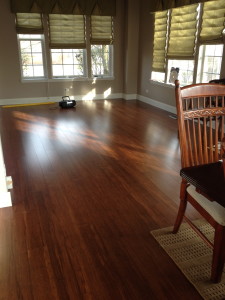 But this year we're a little late. The house has been in disarray since before Thanksgiving because we're putting in new flooring in our living and dining room. The plan is to add hardwood throughout the first floor, but it'll have to happen in stages. It would have been nice to do it all and limit the disorder to one big mess, but since "we're" doing it ourselves (and by that royal we I mean my husband) it would have been more crazy than just trying to empty these two rooms at one time!
The project is nearly complete, though, as you can see from this picture I took a few days ago before he finished the trim on the baseboard. We can finally get our tree up! It's a bit late, but maybe that means we'll just enjoy it more with this shortened season. So tonight while we have Pandora tuned to classic Christmas songs, we'll be decorating the tree.
I'll leave you today with one of my all-time favorite Christmas tunes, as performed by the Piano Guys: