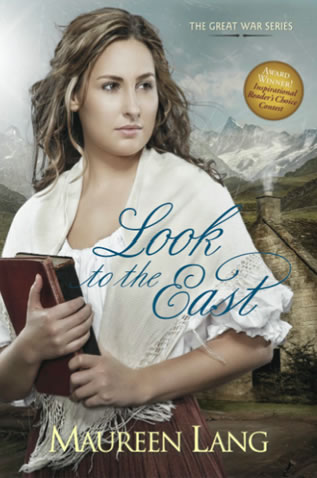 Available in:

Paperback, eBook, Audio
Amazon
Barnes & Noble
CBD
Avillage under siege. A love under fire.
France, 1914
At the dawn of the First World War, the small village of Briecourt is isolated from the early battles while a century-old feud between the Toussaints and the de Colvilles still rages in the streets. But when the German army sweeps in to occupy the town, families on both sides of the feud are forced to work together to hide stragglers caught behind enemy lines.
Juliette Toussaint may have been adopted from a faraway island, but she feels the scorn of the de Colvilles as much as anyone born a Toussaint. So when she falls in love with one of the men in hiding—a wealthy and handsome Belgian entrepreneur—she knows she's flirting with danger.
Charles Lassone has been waiting in the church cellar, safe from the Germans for the moment. But if he's discovered, it will threaten the entire village—including Julitte—and could cost Charles his life.
---
Lang's novel is a cautionary tale as well as a romance within an exciting framework of war, secrets and blissful reunions. –Publishers Weekly Magazine
I've come to expect excellent prose from Maureen Lang, and Look to the East doesn't disappoint. Set during World War I, it gives a look into the past that will make you reflect upon the characters and message long after you've finished reading. A wonderful read! —Judith Miller, author of the Postcards from Pullman series
This is an intriguing historical tale with a romantic subplot enhancing the deep look at life during an occupation. Julitte is terrific as the lead protagonist who holds the insightful story line together, as her love with Charles is pure and in stark contrast to a village filled with the seven deadly sins. Readers will enjoy this cautionary tale that resonates today at a time when outright lies by leaders are acceptable because the means no longer matter if the end is achieved.  –Harriet Klausner Reviews
Lang's couple doesn't experience enough time together for a satisfying romance, but the accounts of survival during dire circumstances make the story interesting. –RT Book Reviews Magazine
---
Click here for a PDF of discussion questions for this book.