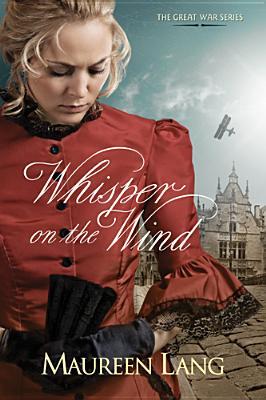 Available in:

Paperback, eBook
Amazon
Barnes & Noble
CBD
In Brussels at the height of WWI, a small, underground newspaper is the only thing offering the occupied city hope—and real news of the war. The paper may be a small whisper amid the shouts of the German army, but Edward Kirkland will do anything to keep it in print. Meanwhile, Isa Lassone, a Belgian-American socialite whose parents whisked her to safety at the start of the war, sneaks back into the country to rescue those dearest to her: Edward and his mother. But Edward refuses to go, and soon Isa is drawn into his secret life printing the newspaper . . . And into his heart.
---
…a moving book with a suspenseful plot that has a twist of romance—all nestled in a historical setting. —TitleTrakk
The characters are well written and well rounded in this tale of romance and suspense. —4 Stars, Romantic Times
Whisper on the Wind is a suspense-filled romance set in occupied Belgium during WWI. Isa is a head-strong heroine who seems determined to get herself into hot water, and Edward, the man she loves, is hard pressed to keep her safe in a time and place seething with danger. Ms. Lang has written an exciting page-turner, one that will have readers racing to reach the end so they can discover how it will turn out. I highly recommend Whisper on the Wind. —Robin Lee Hatcher, best-selling author of A Vote of Confidence and Fit To Be Tied
Whisper on the Wind brings to live a time and place too often forgotten in historical fiction…The suspenseful climax kept me on the edge of my seat! —Lynn Austin, best-selling author of Though Waters Roar
Maureen Lang has authored a compelling read in Whisper on the Wind.  Her characters are believable, her descriptions so well done that you can picture the destruction, and the emotions so high, you'll experience them along with Isa and Edward.  Secondary characters such as Genny and the Major, lend even more to the romantic aspect of the story, and prove that love can overcome hatred if given the change. Even if you aren't a fan of war stories, this is still a book not to be missed. Whisper on the Wind is so much more.  Ms. Lang has taken a very distasteful period of time and conveyed a strong message in her storyline.  I urge you not to pass this one by.  Kudos for a smoothly written, interesting, and well-researched novel.  You're sure to become a Maureen Lang fan. –Historical Novel Review
This story was very well done, and I commend the author for her amazing gift when it comes to craft, setting, dialog, and showing faith in action. —Michelle Sutton
---
Click here for a PDF of discussion questions for this book.