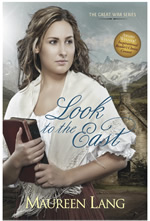 Book 1 in The Great War series. Winner of the Inspirational Reader's Choice Contest for Women's Fiction and a Finalist in the Carol Award for Historical Fiction!
Charles Lassone takes shelter in a small, rural French village when the German Imperial Army of 1914 marches across Europe. Even as Charles falls in love with the lovely villager who helps hide him, he learns the Germans aren't his only enemy…
---
Avillage under siege. A love under fire.
France, 1914
At the dawn of the First World War, the small village of Briecourt is isolated from the early battles while a century-old feud between the Toussaints and the de Colvilles still rages in the streets. But when the German army sweeps in to occupy the town, families on both sides of the feud are forced to work together to hide stragglers caught behind enemy lines.
Juliette Toussaint may have been adopted from a faraway island, but she feels the scorn of the de Colvilles as much as anyone born a Toussaint. So when she falls in love with one of the men in hiding—a wealthy and handsome Belgian entrepreneur—she knows she's flirting with danger.
Charles Lassone has been waiting in the church cellar, safe from the Germans for the moment. But if he's discovered, it will threaten the entire village—including Julitte—and could cost Charles his life.
Downloadable Discussion Questions
​Excerpt:
Once in a little village forgotten by time there lived two feuding families: the Toussaints and the de Colvilles.

Other families inhabited Briecourt in Northern France but their tranquil lives escape memory. As with most enduring feuds, no one knows exactly why it began. Some say it was over un aventure . . . an indiscreet love between one man and a woman not his wife. Others insist money was the cause, a squabble between the miller and the baker over the price of flour. Still others recall it beginning with a simple difference of opinion on the faults and merits of Napoleon between two old men sharing a cup of chocolate . . . It is not, however, the origin but rather the result that matters. One hundred years later, even the purest flour made into the flakiest pastry would leave a bitter taste if made by one clan and sampled by the other. Except for one brief moment in history, the feud rages to this day . . .

A note on book covers . . . Look To The East was originally released with the cover shown here. Together with my publisher, we decided to take the cover theme in a different direction with subsequent books in the series. We re-released Look To The East with the cover shown above, so if you happen to come across one of the original books with artwork cover, rest assured the content is the same.