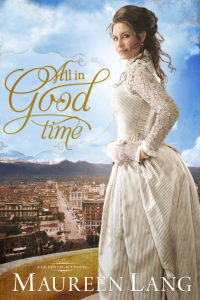 I'm taking a mid-week opportunity to share the news that I'm doing a giveaway on GoodReads! I'll be giving away 5 copies of my most recent novel, All In Good Time, the story of Dessa Caldwell and Henry Hawkins—two people with pasts they're not ready to share.
Here's the description from the back cover:
DESSA CALDWELL HAS A DREAM:
to open Pierson House, a refuge for former prostitutes in Denver's roughest neighborhood. But after exhausting all charitable donations, Dessa still needs a loan. Her last hope hinges on the owner of Hawkins National Bank.
HENRY HAWKINS HAS A SECRET:
he owns the most successful bank in town, but his initial capital came from three successful stage coach robberies. Though he's Denver's most eligible bachelor, to protect his past, he's built a fortress around his heart that no one can penetrate . . . until the day Dessa Caldwell strolls into his bank requesting a loan.
Though he's certain her proposal is a bad investment, Henry is drawn to Dessa's passion. But that same passion drives her to make rash decisions about Pierson House . . . and about whom she can trust. One man might hold the key to the future of her mission—but he also threatens to bring Henry's darkest secrets to light. As the walls around their hearts begin to crumble, Henry and Dessa must choose between their plans and God's, between safety and love.
Click here to go to the GoodReads giveaway, or see the link below. This giveaway requires no purchase, and chances of winning depend upon the number of those who enter. The contest will end on October 10, 2013.
Happy Reading!