(Or why I write what I write)
Although my blog goes into far more detail about my writing life, I wanted to give you a bit of insight into each one of my books. Like a mom to many children, each one of my novels holds a special place in my heart.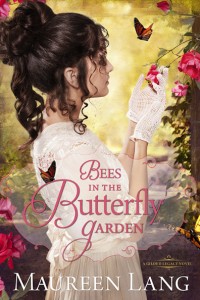 My newest book series, The Gilded Legacy Novels, are set during one of my favorite historical eras. Here in America, the late Victorian years (latter half of the 19th century) are called the Gilded Age, a phrase coined by Mark Twain. He compared the thin veneer of gold over something worthless to the way the wealthy flaunted their new riches during the economic boom that followed the Civil War and Reconstruction period. I wanted to explore through the eyes of new characters just how money can ruin a person's soul. So money as a theme that runs through each of the books in this series—well, along with love that's both human and divine, since I write stories of faith and romance!
Bees In The Butterfly Garden released in June, 2012 and All in Good Time will ship on April 1st, 2013
Bees In The Butterfly Garden is the story of a Meg Davenport, who was raised to be a proper lady in one of the most fashionable schools of New England. Little did she know that her father was a notorious thief, and had spared her from the truth for her own good. Learning about his occupation only after his sudden death, Meg is determined to follow the life that should have been hers, if she'd only been allowed to share her father's life. And his reluctant protege, Ian Maguire, is just the person to help her.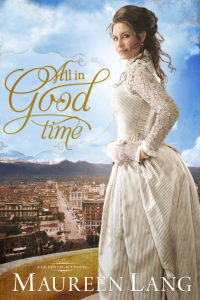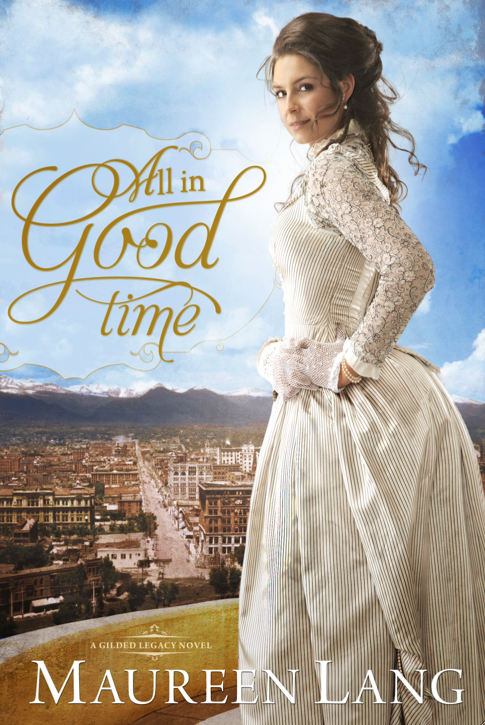 All In Good Time is the second book in the Gilded Legacy Novels, but don't worry about reading them in order. Both books are independent reads with entirely new settings and casts of characters.
This book was inspired entirely through research. I'd come across the tale of a western stagecoach robber who held up the same line three times—all by himself. He chose a narrow canyon, where he was able to place perfectly carved, sturdy sticks high above in the boulders—far enough from the ground so they resembled shotguns. Then he stopped the coach at gun point but never fired a shot, letting "his boys" from above present all the threat he needed to scare the driver into handing over the contents of the lock box. Such a thief seemed just the kind that could be redeemable, so he was the first glimpse I had for my hero, Henry Hawkins.
But what kind of heroine would be the best counterpart for him? Someone with whom he might have a fault or two in common, but who represented the faith needed for his redemption. Enter Dessa Caldwell, every bit as clever as Henry but intent upon using her talent to do God's work. She has a dream of opening a shelter for fallen women, and all she needs is a loan to get her mission off to an early start. Henry is now the successful bank owner he'd planned to become all along, but he's more of a Scrooge than a saint and has little faith in what Dessa wants to do.
Both Dessa and Henry have a secret, and it isn't until each can face their secrets that they can find the future they want.
I must admit this was one of those books that seemed to write itself. I liked Henry from the start, and since I've wanted to set a book in Denver for some time I had fun acquiring resources to make the setting come alive. The best help came from a professor I met online after ordering some of his books. Jay Moynahan has thoroughly explored the old west of Victorian times, and was very generous in recommending some of the sources he used to compile various books on the vice world—a backdrop that plays a big part in All In Good Time.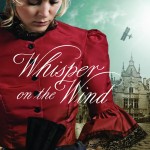 I've also written five books with a First World War setting, so now I'll take a moment to answer why I've been so fascinated by an era that inspired so many books, including my Great War Series. I grew up in a home that talked about war. My grandfather, although he was a quiet man, fought in France during the First World War. My father and my uncles fought in the Second World War. In fact, my father was a prisoner of war for over three years, taken captive at Corregidor while fighting the Japanese to defend the Philippines. He followed the Death March to such camps as Cabanatuan and Bilibid, and was ultimately sent to Mukden, Manchuria where he was part of a forced labor regimen until the end of the war. He weighed less than 100 pounds when he was released, and they told him because of his prolonged period of deprivation that he probably wouldn't be able to father any children. In typical fashion of doing things his own way, he proved the experts wrong by fathering six children. I'm number five.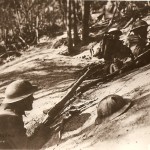 I recall many loud discussions between my dad and one older uncle who came from Germany and who still spoke with a heavy accent. Although I was too young to know what they were talking about most of the time, I quickly learned to associate deep emotion with what happened during that war, any war—on both sides. I think that was where my fascination with war eras began.
Someday I may write a Second World War novel, but so far my research has extended mainly to World War One. I have a number of photographs that my grandfather, in the Army Signal Corps, brought home with him. Although I never saw those photographs as a child, I did finally get to see them when I was older, and now they're one of my most important possessions.
My grandmother used to tell me about the First World War era, too. She was born in 1894 and raised in a school for girls in Ohio. On many Sundays she was picked up in a carriage and taken to the Proctor family mansion to pour tea for their weekly galas (of the famed Proctor and Gamble company). Between pictures from my grandfather and stories from my grandmother, the era seemed to come alive to me. One foot in modern times and the in long ago history.
Springtime of the Spirit finishes my Great War Series, and it was perhaps my most challenging war era novel. As I learned more about how socialism took hold in Germany after the collapse of their economy due to the war and a crippling blockade, I was able to define for myself what I believe about government and its place in the lives of individuals—not just in Germany, but anywhere in the world. This is the book that reminded me of my American values and taught me I'm a capitalist.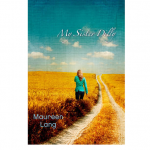 Another novel that challenged me was My Sister Dilly. The inspiration behind this story came about one afternoon as I sat on the couch chatting with my sister-in-law. Both of us are moms to a special needs child, and so inevitably the topic drifted to our children and the schools they attend. On this particular occasion, she told me about a young woman who worked at the same school my nephew attended. She, too, was the mom to a special needs child, one far more medically fragile than my son. My sister-in-law told me the tragic tale of how this woman had round-the-clock care of her daughter, how the father was not only no help but was unfaithful to her, how after several years of sleep deprivation and emotional distress she tried taking not only her own life but that of her child—and failed. I felt a growing realization that someone had to tell this story.
Just not me.
I didn't want to be in the skin of a mom who reached such a desperate place, a mom of an even more handicapped child than my own. I live in the disability community as it is; writing is, for me, an escape from all of that. Yet who better than a mom of a special needs child to understand how it might feel to be so filled with despair that the only option seems a hopeless one? I clearly felt God nudging—pushing—me to write My Sister Dilly. And so I did. With the extensive help of my sister-in-law and also from her friend, the woman who inspired the story (who is, by the way, as I write this, still in prison), I was able to write a difficult but extremely satisfying story of hope and redemption.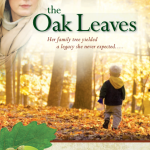 Finally I want to tell you about why I wrote the two partner books The Oak Leaves and On Sparrow Hill. Both of these books hold a special place for me because the story lines include something I deal with every day of my life: Fragile X Syndrome. I'm a carrier for this disorder, and my young adult son suffers its full effects. Although he's nearly seventeen as I write this, he still functions like a two-year-old—a tall but very sweet two-year-old who by virtue of his reach and size can get into many more things than your normal two-year-old.
Not long after he was diagnosed, I knew I would write about the whole experience of learning my perfect little baby didn't have the future I'd hoped, that he wasn't, in fact, as perfect as I'd believed for the first year or so of his life. The Oak Leaves was to be a book I would write "someday." Someday when I was ready, when I'd learned all God wanted me to learn, when I'd accepted the limitations and challenges that came with the diagnosis. But, as I was to learn later with My Sister Dilly, God had other plans. Long before I thought I was ready, He prompted me to start writing a book about receiving such a life-changing diagnosis. To make it easier on me, though, I included a good old-fashioned historical romance, which is the second thread in the story. A woman in our modern era finds the long lost journal belonging to her Victorian grandmother, and learns she thought their family was "cursed with feeblemindedness." Easy enough to dismiss until she begins seeing signs of developmental delay in her infant son.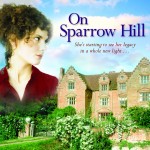 On Sparrow Hill is the partner book, and all I can say about that one is that I just couldn't let go of the characters. After my agent encouraged me to think about a follow-up book to Oak Leaves, I was especially thrilled not to have to let go of a secondary character from Oak Leaves who then became the historical heroine in On Sparrow Hill. It's the story of a woman who wants to open a school for the "gentle feebleminded" in Victorian Ireland. One of the most memorable things about doing the research for that book was how grateful I was to have been born today rather than back then. Times have definitely improved for the handicapped community.
This likely gives you more information than you expected about why I've written my books. Writers write for a variety of reasons, but the more writers I meet the more I realize we have something in common, not only with other writers but with readers everywhere. We've figured out the healing touch in exploring the human condition through stories, something each and every one of us experiences. For me, God's hand has been the real inspiration. But as usual when I follow the path He leads, I'm blessed in the end. I hope you will be, too.